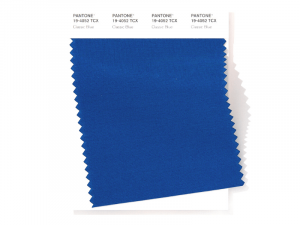 Classic Blue has officially been anointed Pantone's 2020 "Color of the Year".  Pantone says it picked this color because of its ability to instill calm, confidence, and connection as we cross the threshold into a new decade. A dependable color, Classic Blue is timeless, and enduring, making it a great addition to just about any room in your home.
Here are some ways to add this stunning shade of blue to your home:
FURNITURE
Add a splash of color to any room with Classic Blue furniture, such as these dining room chairs, which express a sense of tradition and elegance, as well as unexpected boldness.
TILE WORK
Geometric patterns are all the rage this year, so why not liven up your kitchen backsplash with tiles that incorporate the color of the year? Here's an example that achieves this through bold, colorful design that doubles as a piece of art.
CABINETS
If geometric tile isn't your thing, the are other ways to bring your kitchen to life with this stunning shade of blue. If you're not in a position to purchase all new cabinets, simply paint your current cabinets for a more affordable update.
WALLS
Whether it's built-ins, panels, or an accent wall, Classic Blue can make your furniture and décor pop. Consider this color when you paint your living room or bedroom as a way to encourage calm and confidence in your favorite spaces.