A strong work ethic and empathetic kindness show up in Sheri Putzke's #1 passion, which is "complete client satisfaction". Sheri understands that a real estate transaction is "always a big deal" and not just from a financial perspective. Purchasing or selling a home usually occurs because of something else going on in a client's life – marriage, a growing family, death, divorce, or a new job. Sheri considers it a privilege to help her clients negotiate transitions that are often emotional and overwhelming. "I like to solve problems and help people. I try to remain even-keeled, staying focused on resolving any issues. When a real state need arises, I want to be the person they call," she says,
Sheri's transition into real estate was natural, albeit unexpected. Her husband Mark has built homes for over 20 years and is the sole proprietor of Chandler Homes. Initially, Mark had a business partner whose wife was a real estate agent. When Mark bought out his partner, he suggested Sheri get her license. Sheri has never regretted her decision. Now she and Mark both "live and breathe" real estate. "I help him, he helps me," she explains. They enjoy going to open houses together, keeping current on the latest and greatest in new trends and fun ideas.
Sheri was primarily a stay-at-home mom to the couple's three children – Tristan, Ashley, and Chloe – when she started with Hallmark Realty in downtown Kirkland. The low-key, mellow office was a convenient fit for her. In 2009, when her youngest started full-time school, Sheri joined Windermere. Windermere's technology, education, resources, contacts, and Accountability Group program were instrumental in taking her business to the next level. In her Accountability Group, Sheri and two other agents of similar age and with similar time in the business bounced ideas and best practices off each other. Knowing Sheri's experience with her husband's construction business, one group member connected Sheri with CamWest (now Toll Brothers). Working onsite for several years with CamWest dramatically increased Sheri's expertise with new home sales. The hours were long, but the opportunity for learning and meeting new clients was priceless. Sheri's knowledge deepened by answering questions about everything from foundations to finishes, guiding buyers through the selection of custom structural options and interior finishes, and educating buyers on the build process. "Site work required a huge commitment, sometimes 5-7 days per week, but eventually the time and tenacity paid off," says Sheri.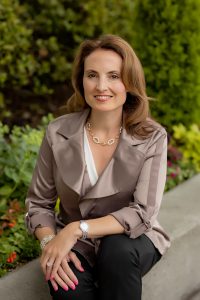 To this day, selling new construction remains an important component of Sheri's business. Builders seek Sheri's well-regarded opinion on floor plans, finishes, and pricing. While new construction sales are "not for everyone" given the structured schedule, Sheri credits it with helping jump-start her real estate career. Additionally, understanding what goes into building a home has given Sheri the skill to help buyers, even on resales, better understand inspection issues and possible remedies.
Fourteen years later, Sheri's clientele is predominantly comprised of past clients and their family and friends. Sheri averages 50+ closed transactions a year and has repeatedly been recognized as one of the top realtors in King and Snohomish counties. However, financial success is not Sheri's motivation. She "pays absolutely no attention" to the dollar values, focusing instead on creating the best possible experience for her clients. When asked about her awards, Sheri "stays humble", simply referring people to her website (sheriputzke.com).
Sheri has never forgotten her early years in real estate and the challenges of building a business. Though she continues to hold open her own listings, Sheri gives other agents the opportunity to do so whenever possible, knowing how much those experiences helped her. "I greatly value my relationships with other agents. We are at our best when we work cooperatively–attending one another's open houses, sharing information and resources, and always treating each other with respect," she says.
Sheri's best advice to newer agents? "Just keep going. There were so many times I wanted to quit in my first year. I felt overwhelmed and intimidated. I stuck with it, asked hundreds of questions, and my confidence grew." Sheri also stresses the importance of honesty. "Always consider today's buyer as a future seller. Being forthright with them about the value/desirability of their home purchase (and with sellers about the market value of their home) fosters trust," she advises. Sheri educates first-time homebuyers on the care and maintenance of their home and remains a resource for them after the sale closes.
For more experienced agents, Sheri advocates surrounding oneself with the "best in the business". She says, "As you get busier, you can't do it all yourself. It's important to build a team of like-minded professionals to support you."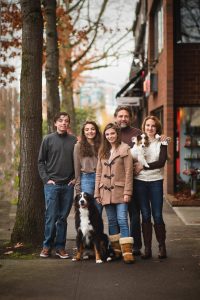 Sheri is a "one-man show" and the primary contact to her clients, but she acknowledges she couldn't do it without support. She credits her longtime Transaction Manager, Danielle, with helping keep close track of contract deadlines and handling most aspects of the job that require sitting at a desk. It would drive Sheri crazy to sit in a chair all day but Danielle, though licensed, prefers working "behind the scenes". The two make a great team. "Support" also includes a Social Media Manager, expert stagers and photographers, and top-notch Escrow and mortgage professionals.
Often working far more than 40 hours a week, Sheri strives to keep everybody (meaning clients, Mark, and her children) happy. Working hard is easy. Balance is the challenge. "It is getting easier now that my children are older, but rarely does a day go as planned. My work happens when it happens," she admits.
Daily exercise is a critical component for restoring balance–running or working out helps to calm and clear Sheri's mind. The family's second home in Suncadia also offers respite. Sheri truly loves her on-the-go, fun, interesting, ever-changing job. She chose her tagline, Love Where You Live, because "The Pacific Northwest offers such stunning natural beauty. Views are a passion of mine, and it's amazing to integrate a great view with incredible architecture. It's such an honor and privilege to live and work here. I love my home and my community. I want my clients to feel the same way!" Her success and client satisfaction rating suggest they do.